Want to automate your Pinterest marketing campaign?
A Pinterest automation tool is what you need. Pinterest is an effective platform for increasing your brand awareness. If you want to take advantage of all the features in Pinterest, you need to have an automation tool or else that would be a lot of hard work.
Why waste your time in all the repetitive tasks? Instead get the best Pinterest automation tool.
But the problem is- there are many Pinterest tools available in the market. Each one of them promises the best features. So, how to choose the right one for your business?
Well, that's not an easy task. But we have made it even easier for you. In this blog, we have shortlisted the 10 best Pinterest automation tools that can be the perfect fit for your business.
Why Use Pinterest Tools For Your Business?
A Pinterest automation tool can save time and effort by automating all the repetitive tasks you need to do such as creating boards, scheduling pins, following other users, liking pins, and so on. There are many other ways how a Pinterest tool can help your business. Here are some:
Converts prospects into buyers
Pinterest tools reduce the number of steps from discovery to conversion, making it easier for people to make a purchase decision. The tools help the prospects decide by showing the usability of the product and finally make them a buyer.
The tools can help you increase links back to your website, automatically driving more traffic. The automation tools add more popular links to your website and ensure that more and more people click on the links to land on your website.
Increases user engagement
The users on Pinterest love to simply share things with small groups of people. It is good for your business because your pins are more likely to be seen and even go viral!
Lets you discover what your audience loves
You can use Pinterest automation tools to see what is trending right now. It allows you to understand what's hot and use that information to position your products.
It also saves time and reduces your efforts to find trending pins to repin and share among your followers.
Optimizes your Pinterest strategy
Pinterest tools provide detailed analytics and insights on the performance of your marketing campaigns and helps you to take data-driven decisions.
Top 10 Pinterest Automation Tools
Here's a list of top Pinterest automation tools that you can use in your social media marketing strategy and grow your business.
1. Pinflux
Pinflux is a Pinterest automation tool designed to help users to save time, increase their reach and engagement on Pinterest and grow their audience. It provides analytics and insights to help users to optimize their strategy, such as tracking their performance, measuring their reach, and identifying which pins are performing the best.
You can easily manage multiple Pinterest accounts from a single dashboard using Pinflux. This feature is quite helpful for businesses or individuals for managing multiple brands or projects.
Pinflux is one of the best Pinterest automation tools that you need for your business right now if you're struggling with Pinterest. Using this tool, you can promote multiple boards and also create niche-focused boards that attract only the highest quality traffic.
Pinflux Features:
Finds high-quality pins
Creates niche-focused boards to attract the highest quality traffic.
Schedules Your Pins at the right time
Finds the highest quality posts that you can repin to get traffic
Autofollow Boards in order to get more follows
Automatic Unfollow Feature helps to get rid of the people who don't follow you back.
Complete reporting of every activity that the software does which helps to know what's working and what's not.
Promote your sites and offers using custom descriptions, links and calls to actions in the pins
Quick & easy 1-Click easy setup without the hassles of permissions and approvals. No API required!
Price: $17 per month & $67 per year.
2. Pallyy
Pallyy is an amazing tool that works for scheduling posts for visual media platforms like Pinterest, Instagram, and more.
You can schedule your pins well in advance using the Pinterest visual calendar. You can easily make edits and add updates to them too. This tool has a useful function that allows users to save hashtag lists to use in their upcoming posts. This can prove to be helpful while planning your Pinterest hashtag strategy.
Pallyy Features:
Simple and convenient
User-friendly
You can schedule your pins both on desktop and mobile devices
Integrates with Canva
You can schedule content for other social media platforms
Price: Starts from $15 per social set per month
3. Tailwind
Tailwind is a social media management tool that can help users to create and publish content on Pinterest. Like other Pinterest automation tools, it can also help to improve and simplify your business campaigns.
Tailwind comes with many automation features like automatic publishing and the Smart Schedule, which publishes posts when the audience is the most active.
Tailwind Features:
Bulk scheduling
Smart scheduling
Allows users to see detailed analytics
Automatically repins older content
Mobile-friendly app
Price: Paid plans start from $19.99/month
4. Pin Dominator
Pin Dominator is a Pinterest tool that can help users post and schedule Pinterest posts. The users can easily monitor their campaigns and know how their brand is perceived on Pinterest.
Pin Dominator Features:
All-in-one dashboard
Schedule posts for multiple campaigns
Tracks how the posts are performing
Powerful social listening feature
Automatic repins
Price: Starts from $9.95/month
5. SweepWidget
SweepWidget is a Pinterest tool that can help you grow your audience faster with social media contests. With the help of this tool, users can run awesome contests and giveaways that can help to boost engagement on their Pinterest boards.
SweepWidget Features:
Brings more engagement
Asks users to complete certain actions
Super easy to use
You have lots of control over running your contests.
Price: Paid plans start from $29/month.
6. SocialPilot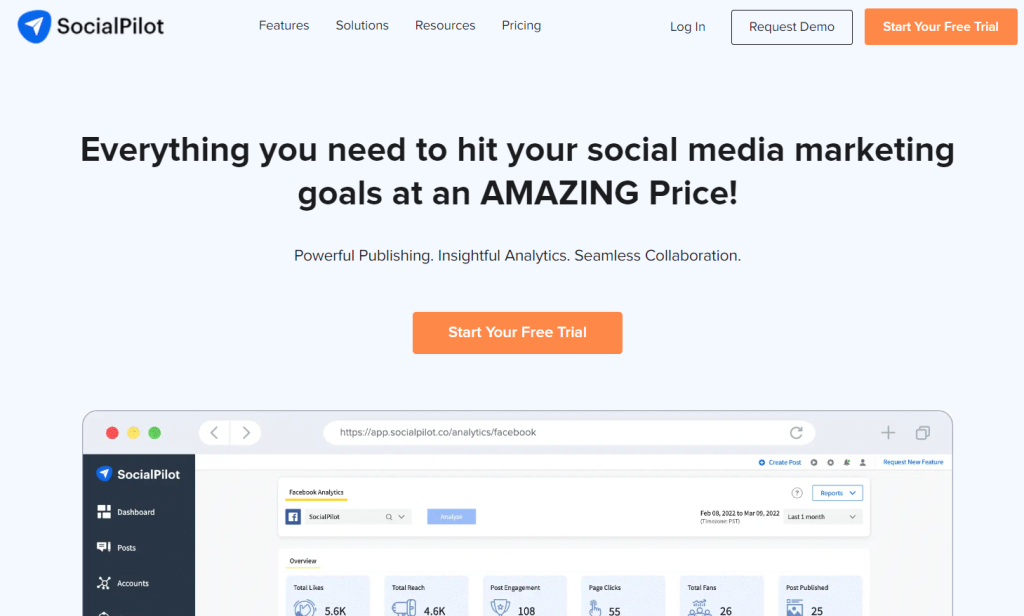 SocialPilot is a great social media marketing tool available online and a must-have addition to your Pinterest toolkit.
The tool comes with great creation features and a user-friendly interface. These features make it ideal for users and create attractive social media graphics for use on Pinterest and other social media platforms.
SocialPilot Features:
Professionally-designed social media template
Customization available
You can publish the graphics to Pinterest in one click.
Schedule pins
Price: Paid plans start at $25/month.
7. Cyfe
Cyfe is a business dashboard that allows users to visualize the key analytics data of social media platforms in real-time. It's one of the best Pinterest insights tools available.
Cyfe Features:
Display data from your company's databases
Pre-built dashboard template
Customizable
Visualize data for all your departments
Share your dashboards with your clients
Price: Cyfe plans start from $19/month
8. PinGroupie
If you want to find the right boards to post your pins to, then PinGroupie will be really helpful for you. You can use this tool to search for group boards on Pinterest. Users can find details about multiple boards with just a few clicks using PinGroupie.
PinGroupie Features:
Keywords search
Plan your Pinterest content
Ensure that your pins get posted and perform
Allows pinning other content easily
Price: Free-to-use tool
9. Buffer
Buffer is a social media management tool that you can use to plan and automate social media campaigns. The tool easily works with social media platforms like Pinterest, Twitter, Facebook, Instagram, and LinkedIn.
Scheduling pins with the Buffer tool is easy, you just have to connect your Pinterest account. You can upload your pins and add them to your queue.
Buffer Features:
Schedule pins well in advance
Detailed Pinterest analytics
Pin from anywhere on the web
Browser extension
Price: Starts from $6/month, per channel.
10. Later
Later allows businesses to schedule pins and manage multiple Pinterest accounts, as well as other social media platforms. It also includes analytics to track performance. This is ideal for businesses that want to track their progress and make adjustments accordingly.
Later Features:
Schedule pins in advance
Smart suggest feature gives suggestions on best time to post, keywords to use, and so on.
Helps in multi-account management
Allows team members to collaborate on content and campaigns
Detailed analytics
Price: Starts from $18/month.
Conclusion
Running a Pinterest campaign effectively is imperative. A Pinterest automation tool allows you to save time and effort by automating all the tasks which you would do manually.
Pinterest automation tools can be effective for businesses looking to save their time and effort in Pinterest marketing. It helps businesses achieve their marketing goals on Pinterest with minimum effort.
You can use any of the above-mentioned tools to grow your Pinterest audience and simultaneously, grow your business. But it's important to research thoroughly before investing your money in a tool.
My recommendation would be to opt for Pinflux as it is not only affordable but also feature-rich in all aspects.
Let us know in the comments below which one you chose for your next Pinterest campaign and why?
Thanks for reading!
41
0
0
cookie-check
10 Time-Saving Pinterest Automation Tools Every Business Should Be Using